Steven J. Bowen is an executive leader with over 30 years of experience in procurement, operations, and manufacturing consulting. In 2004, he founded Maine Pointe, a Boston-based procurement, logistics and operations consultancy that takes a data-driven approach to driving strategic procurement performance for its clients. He is now Chairman at the company, which was recently named one of the 30 most trusted companies in America by Silicon Review, and is on CIO Review Magazine's list of top 20 procurement companies. Bowen is also the author of Total Value Optimization: Transforming Your Supply Chain into a Competitive Weapon, a book that argues that true procurement performance ought to be measured not just in cost savings but also in creating value across the supply chain.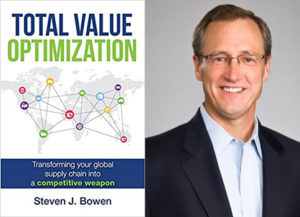 Our conversation was extensive and insightful – ranging from his days at Westminster College in western Missouri where he earned a Bachelor's degree in chemistry, to his burgeoning consulting career, to Maine Pointe, to his book, Total Value Optimization. He also shared his views on Big Data analytics, digital transformation, and technology disruption, and his belief that tax reform will enable procurement teams to invest in digital business solutions and join the "Industry 4.0" movement.
Extracting Value from Big Data
As a procurement and manufacturing consultant, Bowen is familiar with the Big Data "crisis" affecting many organizations. Chief Procurement Officers (CPOs) and procurement teams are awash in structured and unstructured data created internally and pouring in externally. Procurement teams need better quality data, and to be able to convert that data into something meaningful. As Bowen said, "it's about creating insightful analysis for the leaders and managers of the business" in order for them to have informed discussions with internal stakeholders and their suppliers, and to incentivize performance improvements. Without Big Data management and analytics tools, this is a nearly insurmountable business challenge.
The problem, Bowen said, is getting data off of big ERP systems and spreadsheets that reside on individual computers. These problems can worsen following an acquisition, where a procurement team might need to link a home-grown ERP system into a legacy distributed system in a plant that contains "unwashed" data. How are they to extract that data, clean and consolidate it, and combine it with their in-house data to conduct holistic analyses?
The answer, in practical terms, is to take these disparate datasets and run them through a "washing machine," as Bowen puts it, to clean them up. For example, at Maine Pointe, he and his team use a data management system called Alteryx to "clean" the data. They then use a business intelligence and analytics tool, Tableau, to "dry" the raw data and transform it into meaningful and valuable analysis. But it goes further than that, Bowen said.
"The digitization of the supply chain," he said, "is really dynamic and only accelerating further." Industry 4.0 technologies, like 3-D printing, automation, artificial intelligence (AI), connected devices / Internet of Things, and robotics, are taking the supply management and manufacturing industries by storm. "It's all interconnected," Bowen said, meaning that these disparate technologies, when linked as an ecosystem of systems, can create a whole that is greater than the sum of its parts. "We're very excited about it."
Walking Before Running: Mastering the Fundamentals of Big Data Management
According to Ardent Partners' recent research, the average procurement team still struggles to manage data effectively, as evidenced by poor visibility into a slew of spend, savings, and contract compliance metrics; and by comparatively low technology adoption levels. Enterprises that remain flooded in Big Data and have not figured out how to stay afloat are unprepared for what comes next.
According to Bowen, "If you don't have the fundamentals in place, your ability to climb the maturity curve from a one up to a five, along the core axis of procurement, logistics, and operations, is not good." Enterprises might be able to make headway on one aspect, but they are doomed to fail. "If the other one or two don't climb," he said, "they're going to pull you back down because those problems will be seen throughout the supply chain."
Bowen and his team built their Total Value Optimization (TVO) model largely to help procurement organizations stratify their Big Data analytics capabilities across their end-to-end supply chain, which, according to Bowen, accounts for 80% of costs for most businesses. "People need a tool to be able to make some ordered sense of that," he said, and to figure out "where they stack up on the maturity curve to better visualize what they have to do to change and get better." That is the essence of the TVO model.
Using Big Data to Drive Digital Transformation
According to Bowen, procurement teams also need to master the Big Data fundamentals before they can graduate to a higher maturity class where they can access and deploy Industry 4.0 technologies. "If [they] don't have the fundamentals in place," he said, then procurement organizations will be unable to properly use Industry 4.0 technologies "because [they] don't have the ability to feed the right information, nor do [they] have the ability to gather the right information from those automated tools to be able to optimize them."
Bowen believes that the combination of corporate tax reductions and changing regulations on how much capital investments can be expensed in the first year will drive digital transformation even further. Enterprises will be able to invest significantly more in the development and adoption of Big Data analytics and digitization (Industry 4.0) tools because they will have more cash on hand and will be able to write more investments off. "We need that to happen," he emphasized.
On Total Value Optimization
The central thesis of Bowen's book, Total Value Optimization, is a business model of the same name that aims to achieve "the triple effect" of "cost reduction, cash improvement, and growth," which can turn an organization's global supply chains into "competitive weapons." How? By not only driving cost out of supply chains, but also by creating value throughout the supply chain in the form of increased cash flow and business growth. "There's a lot to be gained by getting this right," he said.
Total Value Optimization was written for the CXO-level, including divisional presidents of big firms. But Bowen also wanted his book to be content-rich for people who are not only in procurement or supply chain, but also logistics and operations. "I wanted to show that there's meat on the bone" of the TVO model and approach, "and not just gloss over it," he said.
The book has won Bowen and Maine Pointe high praise from the supply chain management community. The University of Tennessee's School of Supply Chain Management named Total Value Optimization "the most effective approach to getting value out of end-to-end optimization." As Bowen sees it, "That recognition has changed the level of credibility of the work we do."
No Matter the Industry, Disruption is Here and will Remain
Today, disruption is as much of a buzzword as disruptive technologies, like AI and Blockchain. But Bowen believes that not all industries will be disrupted (or disrupting) in the same manner. Take Amazon for example. They have driven and disrupted the eCommerce business for nearly a quarter century. In doing so, they have set the customers' expectation that they can receive almost anything in one-to-two days, and now one-to-two hours. It has created a bit of an "arms race" for Amazon competitors, and pushed other eCommerce players to become more agile and offer shorter delivery times.
The disruption that Bowen worries the most about is the "disaggregated supply chain" – single brands, like Amazon, that provide multiple services, like B2B commerce, digital streaming, eBooks, home delivery, and so on. "Without technology enablement you cannot do that," he said, noting the sheer volume of data created in the last two years alone (92%). Without robust business tools, like AI, Big Data analytics, and Blockchain, disaggregation would likely be untenable; procurement and supply chain teams will need to fuse and crunch disparate data, record and track transactions as they make their way across the disaggregated supply chain – from farm to fork, mine to consumer, and so on.
In this regard, "I think Blockchain is going to be huge," he said.
Final Thoughts
Steve Bowen is a progressive procurement visionary that has his finger on the pulse of digital transformation, and procurement transformation, in particular. With the Total Value Optimization model, he and his company have found a proven formula for leveraging robust data management and analytics engines to help CPOs and their teams deliver the triple impact of cost reduction, cash improvement, and growth. Nailing the fundamentals of Big Data management is both essential for achieving the triple effect and for adopting newer, more innovative and disrupting technologies, like AI and Blockchain, which could propel procurement teams and enterprises to the next level of performance. Look for his book, Total Value Optimization, on MainePointe.com or on Amazon.com.
RELATED ARTICLES
Procurement Influencer Series: Heiko Schwarz, Co-Founder and Managing Director, riskmethods – Part II
Procurement Influencer Series: Heiko Schwarz, Co-Founder and Managing Director, riskmethods – Part I
Procurement Influencer Series: Jack Mulloy of BuyerQuest – Part II
Best of 2017: Procurement Influencer Series: Jack Mulloy of BuyerQuest – Part I
Tagged in: Chief Procurement Officer, CPO, Innovation, Matthew York, People, Process, Procurement Influencer, Solution Providers, Strategy, Technology